John Roloff lectured on his work in Spring 2010.  The results of a design charrette held at the University of Akron's center at the Bath Nature Preserve were exhibited in 2011 as part of the Ground Water:  Out of Sight/Site Out of Mind exhibition at the Sculpture Center in Cleveland.
John Roloff is a visual artist who works conceptually with site, process and natural systems. He is known primarily for his outdoor kiln/furnace projects done from the late 1970's to the early 1990's as well as other large-scale environmental and gallery installations investigating geologic and natural phenomena. He studied geology at UC Davis, Davis, CA with Professor Eldridge Moores and others during the formative days of plate tectonics in the mid-1960's. Subsequently, he studied art with Bob Arneson and William T. Wiley also at UC Davis in the late 1960's. In addition to numerous environmental, site-specific installations in the US, Canada and Europe, his work has been included in exhibitions at the Whitney Museum of American Art, UC Berkeley Museum, San Francisco Museum of Modern Art, Smithsonian Institution, Photoscene Cologne and the Venice Architectural and Art Biennales. He has received 3 artists visual arts fellowships from the NEA, a Guggenheim Foundation fellowship and a California Arts Council grant for visual artists. He is represented by the Lance Fung Gallery in NY and Gallery Paule Anglim in San Francisco. He is currently a Professor of Sculpture at the San Francisco Art Institute.
For the exhibition, Groundwater: Out of Sight/Site Out of Mind, three conceptual project studies/proposals examine geographic and hydrologic connections, visualizations and meta-topologies across geologic time/conditions from middle Paleozoic seas, Pleistocene glaciation to the present aquifers and strata of NE Ohio terrains.  Based upon earlier investigations of these topics the projects presented in 'Groundwater' were developed further into site-specific concepts as a result of an invitational think-tank/workshop by the Synapse Group devoted to the NE Ohio landscape and its relationship to water in 2010.
As an example of the proposed projects, Study: The Sea Within the Land/Site-Scan Flag System (Holocene aquifer/Mid-Paleozoic Sea), 1998-2011, a small autonomous solar powered sea/air ship is programmed to travel at the theoretical surface level of Paleozoic Era ocean (300-400 million years ago) towing multi-beam sonar and sub-bottom profiling equipment, as used in contemporary oceanographic research, reading the contemporary landscape as if it were sea floor.  The data/images would then be used to create a flag/banner system organized on the site depicting the hidden terrain, aquifers and history below.
The other proposals in the 'Groundwater' exhibition, Study: The Sea Within the Land/Glacial Remnant (Preserved Spruce), 1992-2011 and The Sea Within the Land: Anthropocene Depositional Systems/Structures for Quaternary/Mid-Paleozoic Strata, 1983-2011, examine metaphorical and analogous concepts for the Pleistocene glaciation and Holocene sedimentary depositional dynamics.
For more information on his work, visit http://www.johnroloff.com.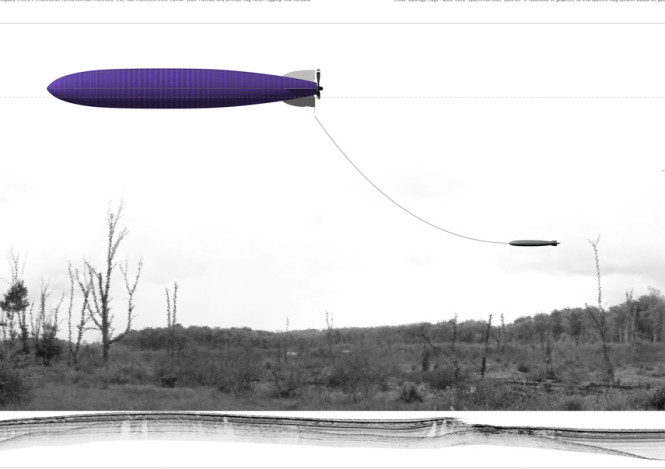 Study: The Sea Within the Land/Site-Scan Flag System (Holocene aquifer/Mid-Paleozoic Sea), 1998-2011 42 in. x 72 in., inkjet print on paper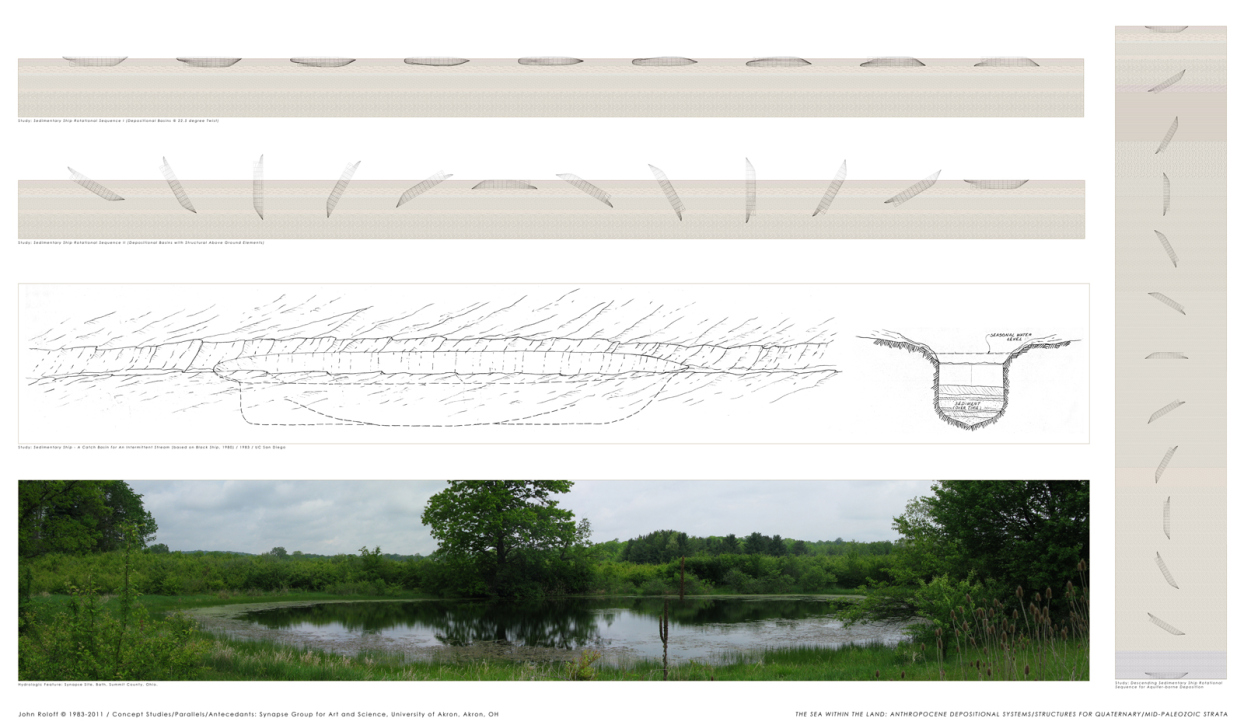 The Sea Within the Land: Anthropocene Depositional Systems/Structures for Quaternary/Mid-Paleozoic Strata, 1983-2011 42 in. x 72 in., inkjet print on paper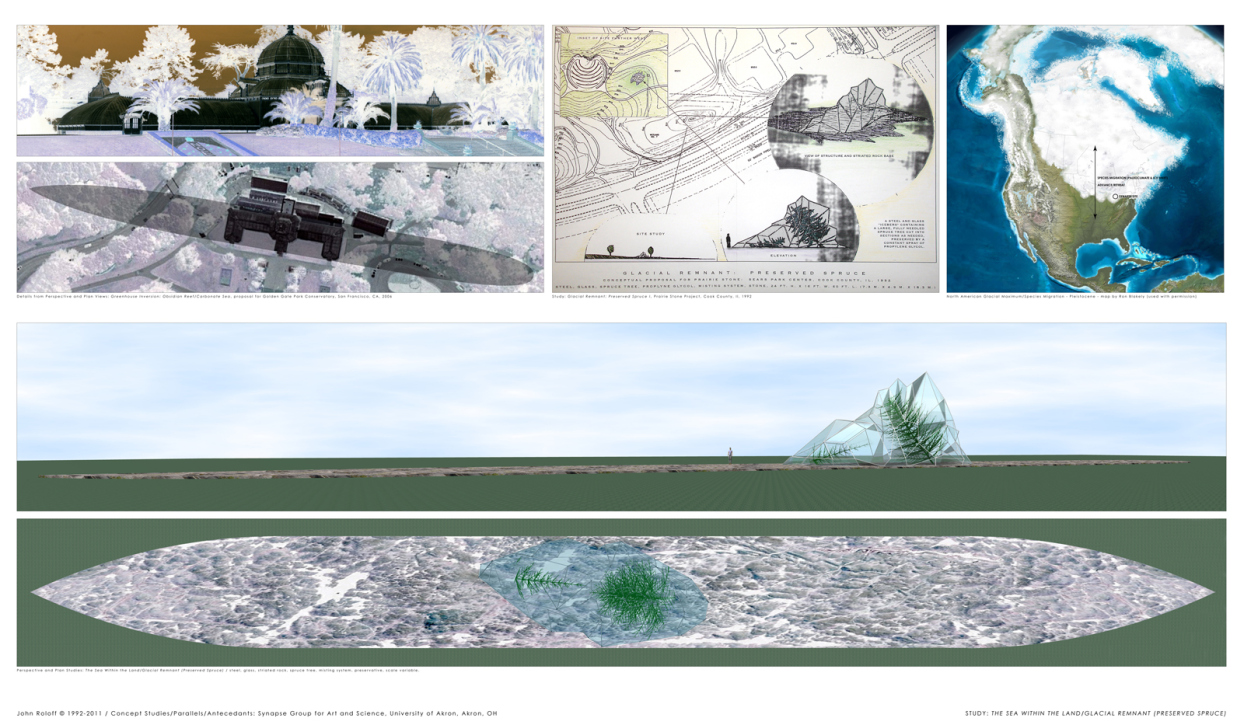 The Sea Within the Land: Anthropocene Depositional Systems/Structures for Quaternary/Mid-Paleozoic Strata, 1983-2011, 42 in. x 72 in., inkjet print on paper. All works: courtesy of Gallery Paule Anglim, San Francisco, CA